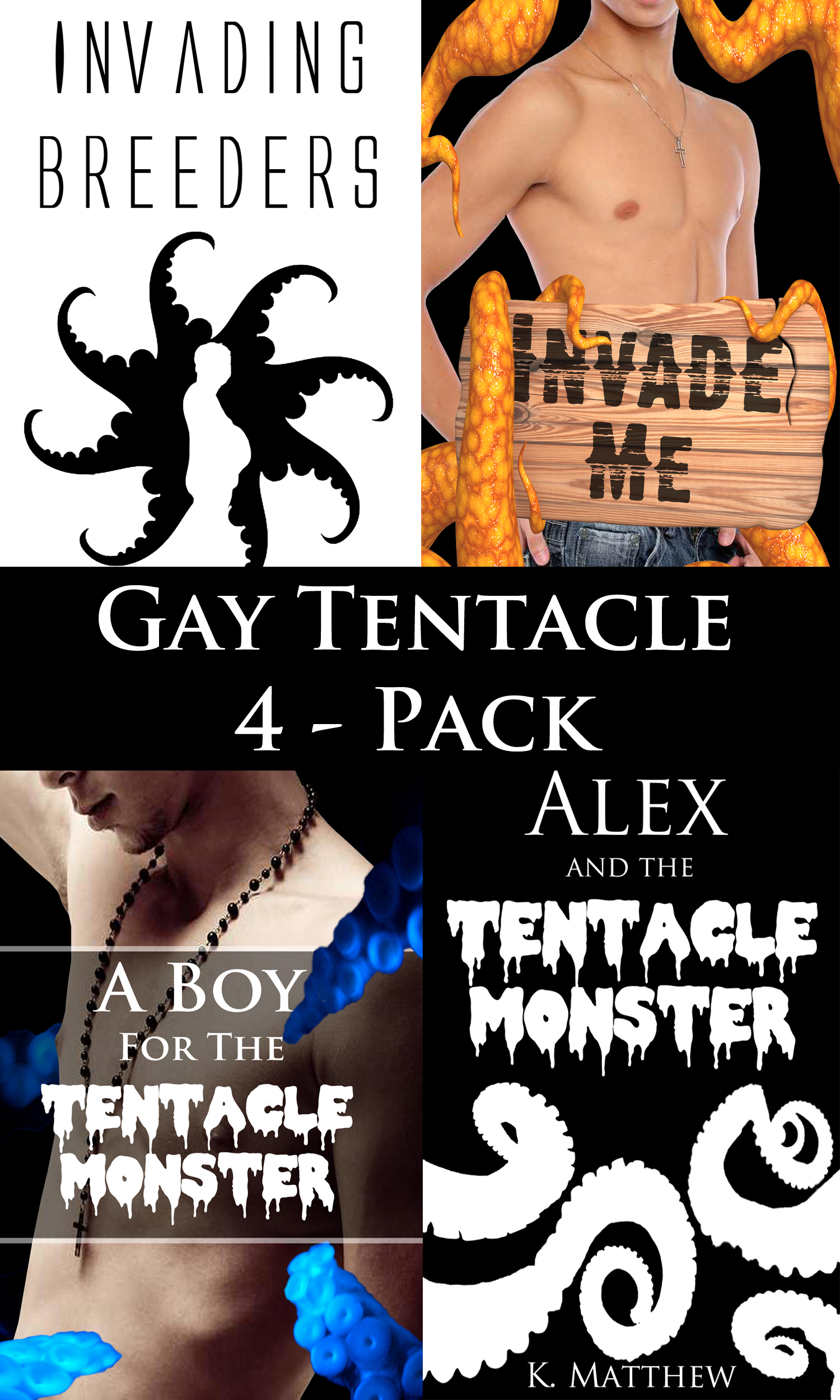 Gay Tentacle 4-Pack
K. Matthew
Four titillating tails of gay tentacle bliss. Read through four separate journeys of intense alien invasions, fantastical sexual creatures, and fear inducing monsters as they plunge their tentacles deep into the holes of their helpless victims. Guaranteed to satisfy your craving for kinky tentacle mayhem. Sold separately, these stories retail for $9.96

Included in this 4 -pack are the following short stories:

Invading Breeders

Invade Me

A Boy for the Tentacle Monster

Alex and the Tentacle Monster

Content Warning: These stories contains extreme M/Monster sexual activity, including: cock milking, dubious consent, first time sex, and deep anal probing. All persons depicted are at least 18 years of age. For adults only!

INVADING BREEDERS

A large meteorite has crashed down in Kenosha, Wisconsin. Curious about the crater the meteorite left behind, a college student goes to examine the crash. When he picks up a strange-looking rock to bring home as a souvenir, little does he know that something dangerous resides within.

Approximate length: 4,200 words

INVADE ME

Terry has spent the last several years lusting after his best friend Darrel, who has been happily dating an adorable blonde bottom since before they met. When Darrel's boyfriend is captured by alien tentacle monsters, he springs to action to save the love of his life with Terry at his side. Little do they know that the invasion will change everything.

Approximate length: 13,600 words

A BOY FOR THE TENTACLE MONSTER

It was Ian's eighteenth birthday, and all that he wanted was to go with his father to the castle town of Gabbs. Unfortunately, the annual sacrifice to the jinn, a hideous tentacle monster, would be taking place that night, postponing their quest to seek council with the king. Forced to stay in an inn until the ritual was over, Ian left his father to go exploring the city. Little did he know that the jinn would be much more interested in him than the virgin sacrifices it had been presented with.

Approximate length: 7,800 words

ALEX AND THE TENTACLE MONSTER

Alex awoke to the cool night's breeze, knowing that he had to press onward in his journey to meet with the Demon of Hearts. Soon, Alex stumbles upon a garden of flowers. While seemingly innocent, there's a predator lurking within who is hungry for the pleasures of his body.

Approximate length: 3,000 words
This was my first deep probing of the tentacle genre.  😉
Matthew packs four diverse tentacle tales together in one box set.  The diversity is definitely one of its strengths — if each tale was super similar, the unique appeal of tentacle sex could grow a little stale.
While the writing isn't super top-notch, Matthew more than makes up for it with the quick pace of these stories and the high level of eroticism.
Tentacle erotica is a new thing to me, but it is something I've been interested in exploring for a little while now.  This bundle, since it has the four diverse stories, makes a good starter pack.  It's easy for this newbie to see the appeal of it — to be so totally and completely sexed over by this monster that is able to probe and tease every orifice of a man, right down to extending micro-tentacles up the urethra and into the testicles.
Well… I'm getting hard here in Starbucks writing about this.  I think, in the name of decency, I should stop this review here since I have to stand up soon.  😉