Like many self-published authors, I use a few platforms to get my works out to as many vendors as possible. I use KDP to get my stuff in Amazon, I deal directly with redvark.com, will likely soon get my stuff up on All Romance, and I use Smashwords to reach a whole bunch more.
When an ebook is uploaded on Smashwords, it's immediately available for sale on their site. Ebooks are then screened for suitability in Smashwords's Premium Catalogue. Once a book achieves premium status, it's then shipped out to other vendors like Kobo, iTunes, and Barnes and Noble.
It's really very easy to obtain premium status. You basically follow a checklist. Even then, the occasional flag is raised that needs addressing. (For instance, Gaymer was originally rejected because while I wrote the characters as 18+, Smashwords felt their ages were ambiguous. So, I added an author's note stating all characters are 18+, resubmitted it, and cruised through the premium process.)
As I prepare for the release of Bathhouse Nights this past week, I went through these steps with all the vendors again. Bathhouse Nights was quickly approved and on sale on Amazon and is already up on Redvark.
Smashwords, though, raised a flag. So, while the book is currently available on Smashwords, it won't be distributed to 3rd party sites until I address the concern.
Apparently, the cover model is showing a little too much ass.
I completely disagree.
However, I'm not complaining and I'm not upset.
Smashwords raised this flag because they want my ebook to be accepted into 3rd party sites with no issues. And these 3rd party sites are subject to the opinions of their customers. So it's not truly Smashwords or the 3rd party vendors who have a problem with the amount of ass on my cover… it's the general buying public. (On a related note, I've noticed Amazon hides my items from search results and the customer needs to explicitly click on a link that says they want to see adult content — but that's another issue, and a very minor issue, as far as I'm concerned, as my books are still easily found and easily bought.)
So here's the "clean" version of the cover I altered for Smashwords: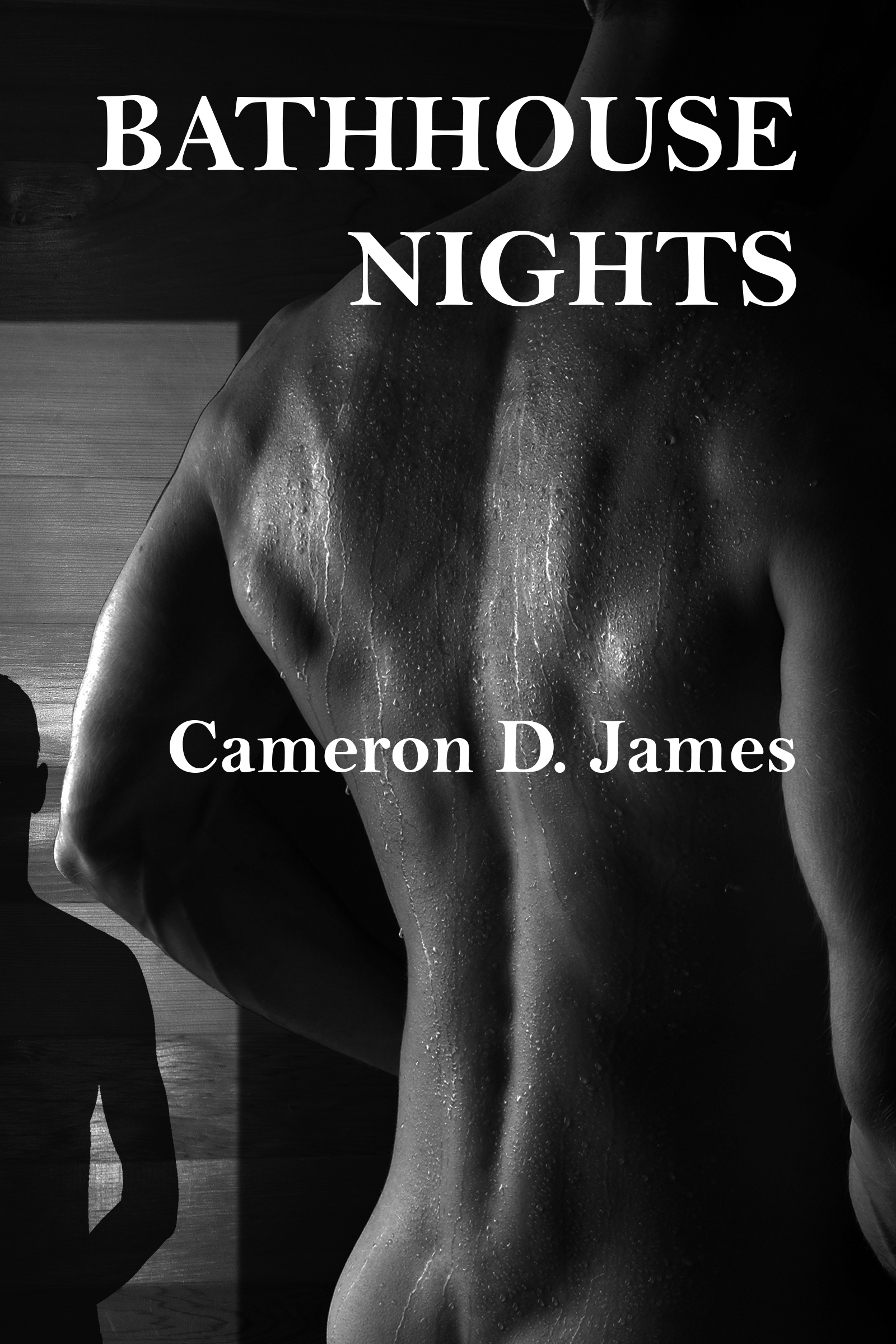 I just logged into my Smashwords account and see that it was approved and will be shipped to 3rd party sites soon.
As I set about designing an alternate cover for use with Smashwords and their 3rd party sites, I wondered what this process says about the general public.
Firstly, this is an entirely subjective criticism. For Smashwords's Premium Catalogue, butt crack (along with a few other things) are a no-no.  Bathhouse Nights shows about an inch of the top of a guy's ass. Yet, Go Deep, another short story of mine, shows the whole side profile of a guy's ass, and it was accepted no problem. As well, a story I recently bought and read off of iTunes, I Am A Faggot by Sir Hunter (which was very good and very hot), shows approximately the same amount of butt crack as Bathhouse Nights, except the top of his model isn't as naked as mine (but it's not the top that's the problem, it's the ass).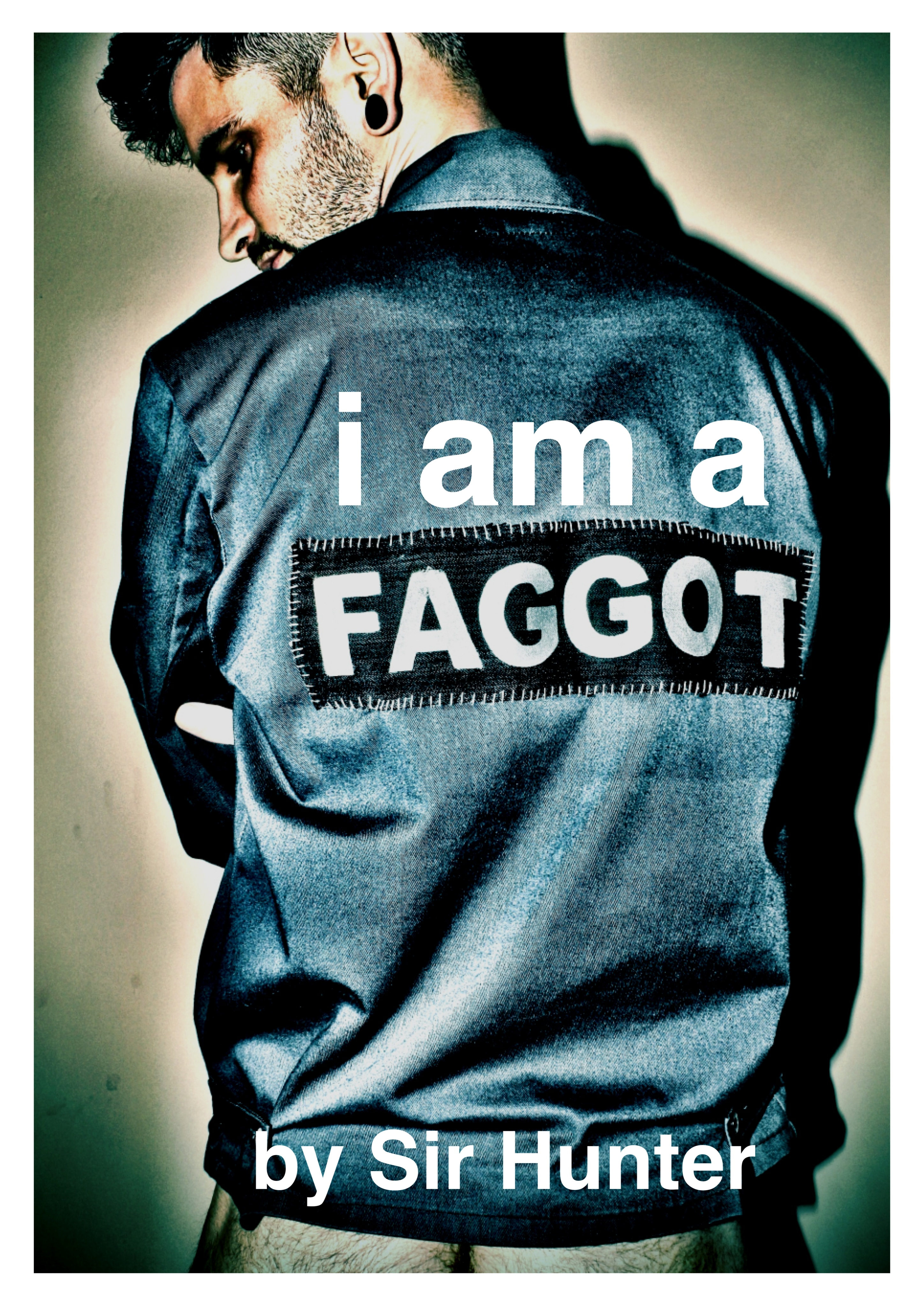 Secondly, when covers featuring as much or more nudity of women are available on these 3rd party sites, such as the ones below (which I found all on Kobo, one of Smashwords's 3rd party partners, by searching "erotica"), what does this say about society's acceptance of female nudity versus male nudity? Society seems to have no trouble sexualizing and objectifying women, but has real problems when it comes to sexualizing and objectifying men. (For a quick thought experiment: For fans of the TV show Game of Thrones — how many penises have you seen versus breasts or vaginas?) And what does this difference say about the value society places on women versus men?
Hey!  I found one male butt crack!
And, thirdly, if this were a straight erotica story, would the censors (and by extension, the public) have the same problem? The romance and erotica stories marketed at women can be rather explicit, so it makes me wonder if this cover featured a woman and a man, rather than two men, would that amount of ass be okay? From my own experience, and this really doesn't take a ton of thought, the general public is largely accepting and affirming of gay love and gay relationships, but the thought of gay sex can make many of those same people squeamish. (And that's totally not a criticism or complaint of any kind — we are socialized to think of sex in one way, more or less, and gay sex is the opposite of what we are socialized to accept, so it's a bit of a hurdle for people to get over.) As I look at the cover of Bathhouse Nights, I see a guy's ass and then the shadow of another guy behind him — does this perhaps induce uncomfortable thoughts of gay sexual acts?
Compare that slight suggestion to the quite explicit sex acts on these heterosexual erotica covers, which I again found on Kobo by searching "erotica":
So these are all just some thoughts I had in reaction to this request for a cover alteration from Smashwords. I'm happy to do the alteration — I understand where Smashwords and their partners are coming from and I want to maintain positive working relationships with them. I don't interpret this as censorship, but rather as sensitivity (even if I don't totally agree with it).
If you'd like to purchase a copy of Bathhouse Nights, I encourage you to do so from your regular ebook store — whether it be iTunes, Smashwords, Amazon, or somewhere else. It might take a while to show up on some of those sites, but it'll get there soon.
However, if you're a fan of the full cover and want to own a copy of it, you can get a Kindle file at Amazon or a PDF at Redvark. (And if you're one of those people that likes to support small business, then I encourage you to check out Redvark, as it is a one-man operation and run by a really great guy.)  All the buy links can be found here on my website, and this page will be updated when it pops up in the various stores.
Thank you for your support as a reader. I look forward to many more sexy adventures with you all.